Dr. Derek Friedman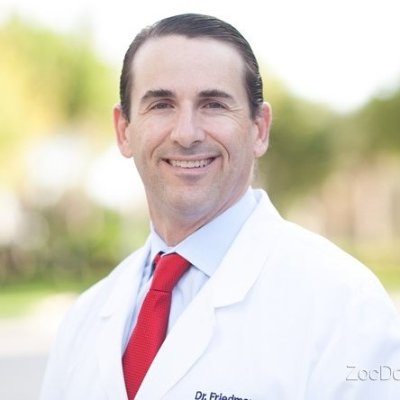 Dr. Derek Friedman is a doctor of chiropractic and functional medicine, and has been practicing since 1996.
Dr. Friedman was born in Poughkeepsie, NY in September of 1968. He graduated from high school in 1986 and went to Arizona State University where he received his B.S. in 1991. From Arizona, Dr. Friedman went to Chiropractic School in Hayward, California where he received his Doctor of Chiropractic in 1996. While in his undergraduate studies, Dr. Friedman started training Kenpo Karate and got interested in Eastern Medicine such as acupuncture and Eastern Philosophies. In 1992, Dr. Friedman met chiropractor Dr. Steve Yeager, who explained chiropractic to Dr. Friedman. At that point, he was hooked and immediately applied to four chiropractic schools in California. He was accepted by all four, and selected Life Chiropractic College – West.
In chiropractic school, once again, Dr. Friedman had his life change again. A very close friend of his, Dr. Michael Frezza, introduced him to nutrition and holistic/functional medicine, and of the works of Dr. Royal Lee and Dr. Weston A Price among other nutritional greats. Not only was Dr. Friedman interested, he developed an obsession. So Dr. Friedman read every book he could and attended every seminar possible while still in his chiropractic studies. Dr. Friedman was lucky enough that one of his instructors in chiropractic school was a nationally recognized nutritional expert and speaker, Dr. Michael Dobbins.
After graduating from chiropractic school, Dr. Friedman returned to Arizona to practice with Dr. Yeager, which he did for one and a half years. After that, he relocated to South Florida.
In Florida, Dr. Friedman joined the team at Golden Chiropractic in Coral Springs, not only as a treating chiropractor, but as the practice nutritionist in 1997, where he stayed for several years.
In June of 2000, Dr. Friedman opened his own practice, Family Chiropractic & Nutrition, in Delray Beach, FL, and has been in practice ever since, where he treats a variety of conditions. Not only does Dr. Friedman treat musculoskeletal issues such as neck pain, back pain, auto accidents and headaches, but he provides support for metabolic conditions such as obesity, diabetes, GERD and reflux, thyroid issues, PMS, andropause (male menopause) and auto immune conditions.
In October of 2017, Dr. Friedman relocated from his Florida location to Allentown, Pennsylvania to open Pennsylvania Injury & Wellness Center. In June of 2019, he expanded to a total of 4 locations in the southeast Pennsylvania area, including locations in Southampton, Bensalem and South Philadelphia to go along with his Allentown location.
In his quest for knowledge, Dr. Friedman has read hundreds of books on nutrition, diet, obesity and the microbiome (your gut bacteria), and has attended well over 1500 hours of seminars, conferences and workshops on nutrition, weight loss, endocrinology, gastrointestinal disorders, joint health and arthritis, auto immune conditions and neurology and neurodegenerative disorders, including Alzheimer's, Parkinson's, Dementia and Autism, just to name a few.
In his spare time, Dr. Friedman enjoys gourmet food and wine, travel, reading, exercising and volunteers with PDCO, a 501c3 non-profit dedicated to providing life – enrichment skills through experiential workshops, and volunteering with Pitbull rescues.
Dr. Friedman is a member of the Weston A. Price Foundation, The Florida Chiropractic Physicians Association and The Price Pottenger Nutrition Foundation.
For more information and to set an appointment, contact us at (610) 351-9555